ADB will provide US$250 million to improve rail service in the country and financial management of Azerbaijan Railways while the balance  will be used to rehabilitate 166 kilometers of double-line main track on the North-South Railway Corridor.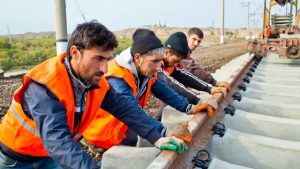 "Modernizing Azerbaijan's rail transport system is a critical component in the government's efforts to diversify the economy and strengthen regional cooperation and trade," said Sean O'Sullivan, director general of ADB's Central and West Asia Department.
"Reforms to Azerbaijan Railways and the support to the North-South Railway Corridor will help put [it] on a sustainable growth path, improve services, and attract greater traffic with the improvement of an important regional transport link," he continued.
ADB said improvements to the rail sector is a key component of the government's plan to promote logistics and trade in the country, and the upgrade would enable it to capitalize on Azerbaijan's strategic location and reduce a reliance on road transport.
The bank is also providing the government with US$250 million in loans to encourage greater private sector involvement in the economy and reduce a reliance on fossil fuel revenues.
The fall in oil prices since 2014 has hit the Azerbaijan economy as oil and gas revenues account for 35 percent of the country's GDP, 60 percent of budget revenues, and over 90 percent of export revenues.
Azerbaijan has received ADB grants and loans of US$4.1 billion since 1998 to support transport, energy, urban infrastructure and the private sector.
News provided by www.freightweek.org