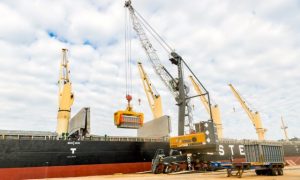 Rigas universalais terminals (RUT) is using the method to deliver pellets from warehouse to pier in open-top 20-foot containers that are lifted using a portal-frame that revolves the container and deposits its contents into the ship's hold.
The technology is described as a "revolution" because using closed standardised containers, dry bulk can be transported from the place of extraction, stored at a terminal without unloading from the container and then loaded onto a ship using the same unit.
"The main benefit is significant optimization of terminal expenses and increase in performance [as] savings on resources amount to almost 50 percent," said RUT Trade and Business Development director Atis Šulte. "By introducing containerized cargo handling, we have become more competitive and can better adjust to customer requirements."
Šulte said the new process, used in Australia and South America to handle metal ore, coal and grain, enables the loading of dry bulk and containers at the same pier using one portal-frame lift for any type of ship. Up to 80 percent of Riga port traffic is made up of transit cargo forwarded to or received from the Commonwealth of Independent States.
News kindly provided by: www.freightweek.com