Today we'd like to focus on our SCN Partner for AIR FREIGHT CHARTER:   NEO Air Charter
If you're in need of airfreight services which might require a full charter or an ad hoc (+10 ton/maindeck)  but you need someone to assist in negotiating terms and conditions,  look no further than NEO. They ONLY work with forwarders, so there is no concern of inappropriate commercial interventions (although that same discretion can make it hard for them to talk about their work..!)
Worldwide operations for Time Critical, Oil & Gas, Projects, Heavy/Outsized, Government & Defence, Aid & Reliefs, Ship Spares, AOG transports etc
Short response time, neutral and honest
Load planning provided by our own loadmasters – load planning and cargo inspections can be done quickly and almost everywhere
Available for worldwide requests 24/7
No conflict situations – remember: we work ONLY for freight forwarders and courier companies –  no direct contact with your clients. Guaranteed.
OBC – Access to more than 140 couriers worldwide – available with different/difficult Visas
During these Covid-19 times, apart for many urgent face mask and test kit shipments, NEO has been working on a range of shipments all over the world with intricate load factors. Here are just some which we will be bringing you details on shortly (and let us know here at SCN if you have a particular interest in any)
120Flights for one client with Covid test kits before christmas (2/3 daily flights)
Oil&Gas ex Guyana – Europe – provided an extra stop on the way back from the Caribbean
Production Material Europe- Mexico : charters were cheaper/same price as scheduled service
EU-Africa, Intra Africa, UNHCR related business (hospital equipment, etc.)
In 2020 started with Passenger Charters (we even flew some EU foreign ministers) – mostly related to Africa and South America and Intra-Africa (eg a couple of flights ex Libya to Chad)
In 2020 -a couple of charters related to the elections in Chad
On 24DEC (i was on vacation already) some top urgent hospital equipment with an AN12 to Kazakhstan (Frankfurt-Baku scheduled and short transit to Nur-Sultan)
2021 ongoing: weekly 400tons with several charters (even AN124) to several hubs in the US. Animal food-stuff (this weekend 8Flights SAT and SUN)
A couple of flights ex Denmark-Dominican Republic
3-4 Flights ex EU to Guatemala (B74Fs and PassengerAircrafts B787-800s)
30tons 13m pipes incl packaging, going to DOH
50tons Machinery going to GDL via US transfer
Weekly flights to ATL
……….and many many more.
But let us start the story-board rolling with this one:
Routing: Scandinavia – South America   (End 2020)
Commodity: Oil&Gas Equipment  – Dims: 22,3×2,4×0,38cm/8tons
Client: EU-based Forwarder
Problem:
It is possible to load into a "normal" Aircraft, like a 74F, but at that time nobody was willing to deal with it, due the problematic Covid restrictions in Chile and longer ground-time for the Crew involved, therefore the only option would have been a AN124 for a real high price.
Solution:
With strengthened force from our loadmaster team we put up a planning with VolgaDnepr and their IL76 aircraft to make it happen
Planning ahead: 3weeks prior to flight
Loading Time: 8hours
Unloading Time: 5hours
Equipment needed: a lot of wood, some Cranes (and a backup forklift) and a trailer
Delay: none
Stops en route: 2 Cape Verde Islands and Recife for crew rest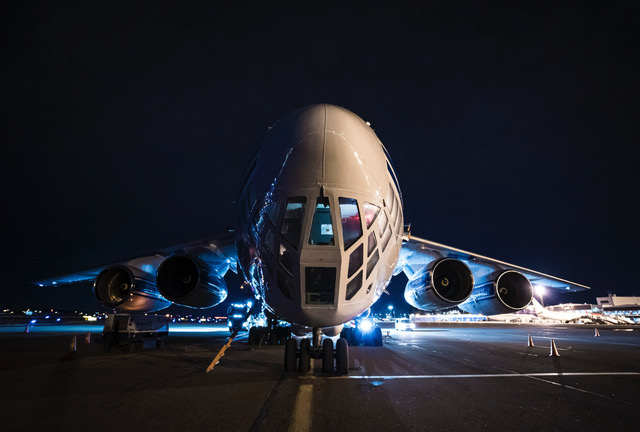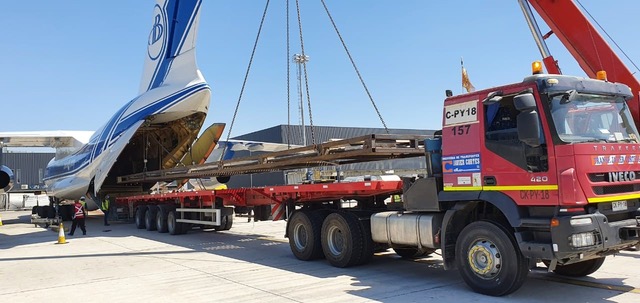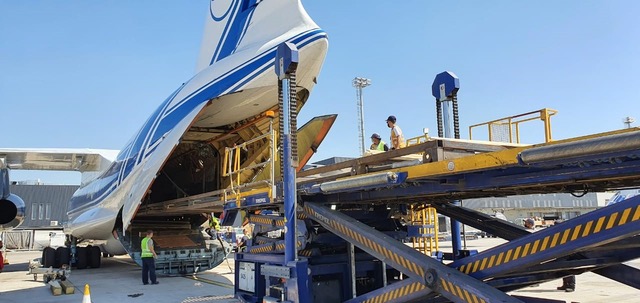 If you want to get the full picture, or see if NEO's experience is aplicable to your air cargo problem, get in contact today:
24/7 OBC Ph.:          +49 (0) 2203 92191-0    obc@neoobc.com
24/7 Charter Ph.:   +49 6142  941 300         charter@neoaircharter.com    passenger@neoaircharter.com
LinkedIn: https://www.linkedin.com/company/neo-air-charter-gmbh