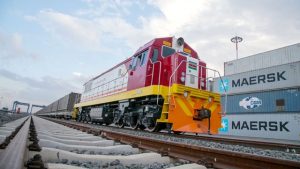 According to Kenya Ports Authority head of Inland Container Depots Symon Wahome, the initial four times a day freight service will revolutionize the transport of cargo in Kenya: "While the meter train used to carry twenty to thirty containers, the standard gauge train will carry 216 containers," he said.
The Kenyan government has begun negotiating with the rail contractor China Road and Bridge Company to extend the line to Naivasha, 120 kilometers north of Nairobi where the government plans to set up special industrial zones.
Speaking at the opening of the ICD, president Kenyatta said the US$3.6 billion investment in the SGR was to grow the Kenyan economy: "We are lucky as a nation, because, thanks to the sustained effort by stakeholders in the transport sector over the years, Kenya has successfully built and maintained her status as a leading regional logistics hub."
Noting cargo volumes at the Port of Mombasa rose 25 percent between 2012 and 2016 to 27.4 million tonnes, Kenyatta said he expects cargo totals to rise 7.6 percent annually as the SGR enables containerized cargo to leave the port faster for subsequent clearance at the ICD.
"To support our exporters, both local and regional, we will offer 50 percent discount for transporting goods from the Nairobi Inland Container Depot and the Port of Mombasa. Furthermore, the second phase of the SGR will be linked to the Depot, thus connecting Nairobi with the region via rail," he added.
Granting a five-year license to the China Communications Construction Company to operate the SGR, the Kenyan government says it expects a "significant" cut in the cost of an import TEU unloaded at Mombasa and on-forwarded to Kampala, Uganda and Kigali, Tanzania – currently estimated at K$2,500 and K$4,500 respectively.