"Dear Valuable Partners,
As Covid-19 is now officially designated a global pandemic by the WHO and continues to spread beyond Asia, we at AGL Korea hope that you, your staff, and your families and loved ones are all safe and healthy in the midst of this worldwide health crisis. As your responsible partner in Korea, I would like to give you an update regarding the situation here and how the novel coronavirus is impacting our operations.
The government of South Korea has never (as of yet) imposed a lockdown in any part or whole of the country. However, in keeping with expert recommendations on social distancing, half of our staff are working from home while the other half are working from our main offices in Seoul and Busan, and they rotate weekly. This may delay our response time to you slightly, but we remain fully staffed and operational to process quotes and enquiries on a full-time basis (09:00 – 18:30 KST).
Ocean Export
The trend of blank and skipped sailings continues, leading to a tightness in space, in particular for FCL. This is likely to worsen as some countries introduce mandatory 14-day quarantines on vessels coming into ports. In comparison, LCL shipments are relatively easier to process at the moment. Routes from Korean to Chinese ports, however, are beginning to open up again.
Air Export
Continued sudden flight cancellations and travel restrictions pose a challenge in securing cost-effective and space-effective options from ICN. The airfreight rate is increasing sharply day by day due to decreasing space capacity, which means the best option is usually on freighter service. KE and OZ continue to allow for movement of goods out of Korea by air, and rates are very variable, so we are processing orders on a case-by-case basis. .
Import
Thankfully imports into Korea by air are almost untouched by the current pandemic, and our Imports team stand ready to assist you with customs and delivery procedures via air freight. Importing into the sea ports of Busan, however, is experiencing some delays.
I hope that you find this informative and helpful. If you have any further questions or would like us to assist you in any way in relation to Korea, please do not hesitate to contact either me or one of the AGL team.
Kind regards,"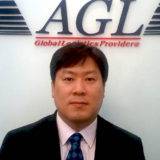 Jinsoon Kim
T: +822.323.6776
scn@agl.co.kr