Last week SCN's Tanya Leon, Community Development Manager, visited one of our members in Mexico – ASTK International Services SA de CV.  Established in 2001, ASTK joined SCN the following year, becoming one of the FIRST member to join our network and maintain a strong and secure business with network members over those 20 years.  See below first SCN certificate issued for them, proudly on display in their office: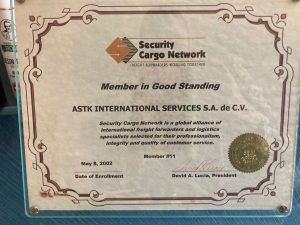 ASTK handles import and export shipments by truck, air and sea incluiding customs broker services in Altamira port, Manzanillo port, Laredo border, Mexico City airport, Tijuana border, Queretaro airport and Veracruz port. They specialize on exportation of brand new vehicles as well as on importations under temporary basis using ATA Carnet.
ASTK are located in Mexico City and coordinate shipments in the rest of the country with local partners. Their main volumes come from ocean freight shipments into Mexico but also handle air and road services too, including door to door services between Mexico and the US.
As a long-term established company, they have perfect knowledge of all the regulations and law terms about transport in Mexico so they can help members to find the solutions to the most difficult of shipments.
Curious fact:
ASTK logo is based in the center of the Aztec calendar. It is one of the Mesoamerican Calendar, sharing the basic structure of calendars from throughout ancient Mesoamerica.
The calendar consists of a 365-day calendar cycle called xiuhpohualli (year count) and a 260-day ritual cycle called. The xiuhpōhualli is considered to be the agricultural calendar, since it is based on the sun, and the tōnalpōhualli is considered to be the sacred calendar.
If you have shipments for Mexico that they could assist with, don't doubt in contacting: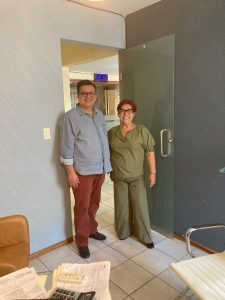 Miguel Cabrera
President
T: +52 1 55 40857564
M: +52 55 26036667
president@astkintl.com
Idali Leyva
Accounting Manager
T: +52 5526036667
M: +52 1 5539390710
accounting@astkintl.com