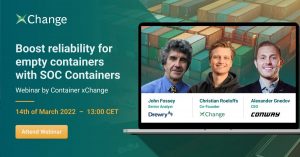 At xChange, we believe using shipper-owned containers (SOCs) can help you beat this crisis. In fact, it's not just us. Many freight forwarders have begun to rely on SOCs to meet the container demand amid the global shortage.
Want to make use of SOCs to boost availability of empty containers? Join our free webinar on March 14, 13:00 CET to learn more.
Agenda of the webinar:
John Fossey (Senior Analyst, Drewry) will give you an overview of the current state of the container equipment market covering: global container production, ownership situation of global container pool, container availability and prices
Christian Roeloffs (CEO, Container xChange) will guide you through the 3rd Edition of the SOC Container Mystery Shopping, show you how the biggest freight forwarding companies use SOC Containers, how they can boost your reliability when it comes to sourcing and how they make you more independent from shipping lines.
Alexander Gnedov (CEO, Conway) will open the group discussion with all participants and share about how they use SOC Containers at Conway.