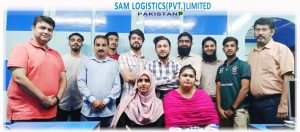 Congratulations to Sam Logistics (PVT) Limited (Pakistan) for achieving registration with the FMC. Their registration and bond have just been accepted by the FMC in USA
Sam Logistics (PVT) Limited:    FMC 030243
What does this mean for you?
If you are a US forwarder, or if you are involved in cross border traffic to/from Pakistan, Sam Logistics will be able to book shipments on THEIR FMC rate, without having to rely on destination contract rates:
NAC Filing, project Cargo, Yearly contract with main carriers
AMS / ISF Filing
Better access to SPACE in these difficult times
Free days approvals
Preferential rates from Pakistan to USA
Collect Freight shipments possible
Use of HB/L of Sam Logistics (PVT) Ltd 
If you are a Pakistani forwarder (or shipper) you will also be able to book cargo on similar preferntial conditions.
We look forward to news of increased traffic flows between Pakistan and USA between Sam Logistics and other SCN members.