The lockdown of an economy the size of India clearly has significant implications. Thanks to Vijay and his comments on the situation:
"Battling with the novel coronavirus pandemic, India on Monday (March 16th) announced that it is heading for a nationwide lockdown with a group of ministers proposing closure of all educational establishments (schools and universities included) and almost every type of public place till March 31 besides asking the private sector to encourage its employees to work from home. Most of the Corporates are closed and some manufacturing units are working on the production side but not on the management side
Lockdown is till March 31st 2020. Business Normalcy is expected only by 6th April 2020
Consequently, we have put our contingency plan to action to fight the current and future risks to our business, and our customers' businesses, due to the COVID-19 outbreak.
As the developing situation changes with respect to world health outlook, We have outlined key two areas to ensure our readiness towards workplace mitigation as below.
1) Employee health and safety
Hand-washing policy and education: We have trained our staff on proper, effective hygiene practices for reducing the risk of contracting or spreading the virus. 
Travel restrictions, guidelines, and recommendations : We have limited all non-essential business travel and travel to designated high-risk regions. 
Remote Workforce : We have allowed optional, voluntary work from home. This measure is already in place. All staff in all locations have the autonomy and flexibility to work remotely to help mitigate the risk of exposure from public transit and closed communal spaces.
We have installed multiple hand sanitizers within the office premises. 
We ensure frequent cleaning and sanitization of our workplaces. 
2) Service operations
Airfreight schedules have become erratic and extremely haywire due to flight cancellations across all airlines, all our customers & partners are updated on a regular basis and critical shipments are handled with extreme care.
Sea freight movements are smooth at the moment in India, Lines are accepting bookings with 1-2 rollovers in the transshipment points towards US and Europe, rest of the areas are going smooth at the moment
Customs clearance is happening on a slightly delayed mode
Domestic trucking within India is on a smooth mode without any issues
Please reach out to the following people by email or Whatsapp for any emergencies…
Mr.Roshith – General Manager at +91-96000 85802 or at roshithms@kronoslogistics.in
Ms.Lavanya- General Manager at +91-98408 51050 or at lavanya@kronoslogistics.in
Ms.Supraja – Air Product Manager at +91-96000 85276 or at supraja@kronoslogistics.in
Kindly share it with our global partners and we assure you that we will come back more stronger than what we were before and our prayers to all our global partners for speedy recovery in their respective locations
Thanks & Regards"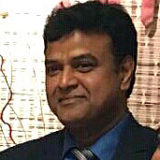 Vijay Anand
vijay.anand@kronoslogistics.in