Amatrans (Milan, Italy) is a small company located in Concorezzo, Italy. Born in 1984 as customs operators, they have extended and now offer many services, like 1000 sqm of bonded warehouse, equipped for FCL loading/ unloading loose or palletized. They also offer VGM weighings,  handling, picking, packaging , palletizing, storage services, lashing/ securing OOG cargo onto Flat racks / Open top… as well as arrange for stuffing dry conts.
They  tell us they have just handled an oversized shipment and we are pleased to hear that the counterpart is another SCN member from Saudi Arabia: SEDRES MARITIME Co. Ltd. With more than 3 decades of experience, they provide services related to Off-shore Marine, Shipping agency, Ship chandling, Supply Chain, Freight forwarding and Customs clearance. Sedres believes in the importance of strategic partnership with industry leaders to achieve distinction in specialized services.
Project shipment contains steel tubes with a value of Eur. 900,000/- for a water refinery plant in Saudi Arabia. The shipment was from Exw Milan/ Italy via Genoa to Dammam and delivered to Jubail in the Eastern region of Saudi Arabia. It was approx. 300+ tons weight and 450 cbm volume.  The job was successfully executed without any issue….and usual!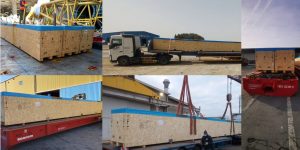 This was a 3 partial shipment with 15 extra long cases exported from Italy to Saudi Arabia.We love to see SCN members doing great things together!
For further information please contact: