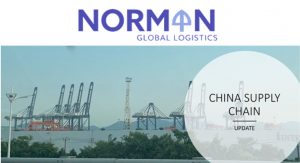 The further spread of the Omicron variant causes impacts to the supply chain and transportation with various local measures to curb the spread. These actions impact the transportation and supply chain industry in the areas. You can find the local situation in China below. Updates will follow as the situation develops in coming days:
HONG KONG
Cross-border trucks between China and Hong Kong are being limited due to the measures. Long waiting times for control and restrictions for travel determine the capacity.
Many of the goods for Cross-border are now transported by ocean due to limited truck capacity.
Warehouses in the city have reduced capacity for cargo handling causing delays for handling and loading.
SHENZEN
 New measures were announced to restrict travel and limit the spread of the virus. The measures are announced with effect Mar 14 – 20 and will be adjusted following the development.
     Warehouses/terminals:
Most warehouses will be on lockdown from 14 Mar until further notice.
Terminals and and warehouses are highly affected by the situation, goods located inside the logistics park will also face delays and disruptions for handling.
     Air:
Airlines operating.
Ground handling and cargo receiving are affected; airlines required drivers to be tested within 24 hours before delivery, and terminals can only receive the goods within 48 hours before departure.
Warehouse handling has noticed lockdown and needs case by case to check before receiving cargo. The measures will limit capacity for cargo handling.
Shenzen Airport and Container ports are operating, but volumes will be affected by the limitation on truck service, and warehouse operations. 
     Ocean:
Ports in Shenzhen are operating, but the trucking and warehouse limitations will reduce the port volumes.
If the shipper can arrange timely transportation to the port, cargo can be loaded at ports and airports, this as per the situation today 14 Mar which can be changed without notice.
Expect reduced capacity for shippers to arrange both local transportation, shipping documentation and loadings due to the situation.
      General:
Most offices have remote work and limitations of public transport, affecting operations at offices and factories in the area.
XIAMEN: 
Normal operations for transportation, offices and factories.
NINGBO:
Ningbo city has normal operations for transportation and warehouse activities.
Some nearby areas such as Hangzhou, Wenzhou, Jiaxing have local measures with factories and community closures based on the local conditions.
SHANGHAI:
Normal operations for transportation.
Many offices work remotely or with limited staff.
Warehouses and terminals operate as normal but require the driver to be tested within 48 hours before delivery which limits trucking capacity.
Some factories depending on locations have announced reduced or stopped operations based on local conditions.
QINGDAO:
Qingdao city has normal operations for transportation and warehouse activities.
Trucking across the Shandong province is a bit difficult, Weihai city, Rushan city, and Weifang city have measures restricting operations.
Air and ocean shipping operate as normal.
Warehouse operations are open, but limited capacity due to lack of workers in the Qingdao port warehouse.
VIETNAM:
Normal operations for transportations and warehouse activities.
Latest news about the impact of the situation in Ukraine:
If you wish to get in touch with Norman Global please contatc: