When a major global toys brand based in USA was frustrated with their existing VOCC & NVOCC service provider for not offering space, options or communication, they had plenty of options. Among them: "Should they opt for a multinational forwarder with own offices around the globe, or a US forwarder with good connections around the world?"
Norman Krieger International stepped up to the mark and got the contract, covering shipments from China, India and Vietnam to the USA. ….Oh yes, and more than 20 other countries of cross-trade too!
Norman Krieger's focused customer service knows how to provide what clients need over the US, but what about the other countries? Fortunately of course NKI has already forged close ties with many countries and companies through years of networking with Security Cargo Network members.
Despite occasionally shying away from the bright lights, Elizabeth Magistro (Norman Krieger branch manager, New Jersey) is a well known contributor to networking at SCN in both on line and in person events. Elizabeth was responsible for reaching out to members across the network to check for service ability and remains in contact for maintaining the global client information flow updated. It is the SCN Network connections and relationships that supported NKI's focus on customer service that allowed this "win" to happen for us!  Being able to pull from so many resources within the network gave us the global presence we needed to support this business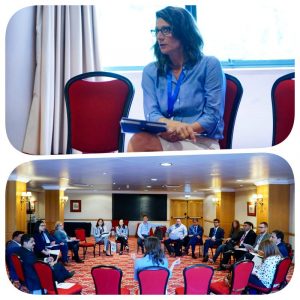 "We absolutely love working with SCN. With this worldwide project, we've had the opportunity to work with so many SCN members. Its been so much fun connecting all these agents together, some of which have never worked with each other before" explains Elizabeth. "I've not really had any bad experiences" she confirms, in sharp contrast to the problems that so many talk of in logistics these days. Clearly the communicative focus of Norman Krieger and between SCN members is proving to be very positive.
We're growing in leaps and bounds and it's so exciting! Our office is too small these days, so we're moving into a larger space" informs Elizabeth of her New Jersey/New York branch. Meanwhile, Norman Kreiger clearly wants to get closer to the network's members by adding their other offices to the SCN. Greg Wickes (COO of NKI) adds "Life has been busy these last few months and I remain thrilled at the performance of the SCN network". the branches of Long Beach, Calixico and San Diego are now also branches in the network, giving service to members around the world.
Here at SCN, we too are thrilled by the success that Norman Krieger is having with a major client, thanks in part to networking with SCN members. The flexibility and types of contact available are clearly a force to be used and once more here show to be a winning tactic for a global account. A global account need not try and fit in with the corporate structure and confines of a global forwarder when more enthusiastic collaborative partners are waiting for them around SCN.
..We also suspect that the Norman Krieger team greatly enjoys networking with SCN….as we do with them!