Tuesday 3rd May 2022
TAKING OFF:Airfreight data (and what it all means for you)

Major upheavals in the logistics has seen freight rates increase severely around the world since Covid-19 affected many supply chain channels. With services stretched and in high demand, a collection of data and an understanding of the data points is more important than ever to be able to transmit to clients a projection of what the future has in store for freight rates. Massive ocean freight rate increases and delays make more look to airfreight as an option, with logical impact on rates. Airfreight routes and yields are in constant flux with route restrictions for passengers leading to many questions about rate
How does the lock-down of a city like Shanghai affect data on airfreight searches?
How can airfreight searches indicate freight rate movements?
What can data tell us about long term rate predictions?
Joins us and our invited guests from WebCargo / Freightos to learn more about the DATA behind your airfreights:
Judah Levine, Head of Research, Freightos Group
Ethan Buchman, CMO, WebCargo
Alexandra Escanero, Biz Development Manager, WebCargo

Connect up on Tuesday 3rd May, at a convenient time for you to share your experiences and learn from the data
(If you have any questions regarding data on airfreight rates to put to our panel, please contact us before: hello@securitycargonetwork.com)
Be part of the conversation on logistics at SCN
---
SCN Cyber Meeting (5pm BCN time – Time zone 2 – Europe/Africa
Meeting (in English) to discuss where we are with digitalization in airfreight and where its all going

---
(And finally in SPANISH)
SCN Cyber Meeting (3pm MIA time – Time zone 3 – Americas – EN ESPAÑOL)
Reunión en español con Alexandra Escanero de WebCargo y miembros de SCN y otros de LATAM

---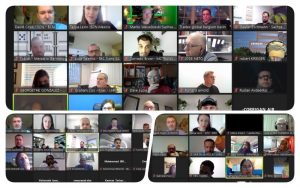 What is an SCN Cybermeeting?
SCN Cybermeetings are zoom meetings of approx 45-60 mins
We hold three meetings on the same topic to allow you to join at a convenient time according to your time zone
SCN Cybermeetings are our member's opportunity to see and be seen – hear and be heard.
SCN Cybermeetings are FREE and we encourage all members and their contacts to join us.
Register, connect and be part of the conversation of logistics