SCN CYBERMEETING  –  Wednesday 31st May 2023

Following a very successful and insightful regional meeting in Colombia a few weeks ago, we now want to look forward at the new traffics being created from the relationships forged and also look for more potential business.
Are near-shoring and geo-political changes in the world diverting more traffic to and from Latin America
What markets are growing and stable in LATAM?
What products are coming from LATAM?
What differences exist bewteen the countries of the region?
We will be talking of some of the added potential and coverage of the network in the past year within LATAM and what those new SCN members can provide for you in terms of insight and cargo.
Join us and participate in the debate to grow your LATAM movements, agents and understanding.

For the members who joined is in Colombia (and those who didn't too!) a reminder that photos and videos are available for you at the following link:
*********
Connect up on Wednesday 31st May, at a convenient time for you to share your experiences and impressions!
Be part of the conversation at SCN
---
SCN Cyber Meeting (5pm BCN time – Time zone 2 – Europe/Africa
Meeting (in English) to share opinions on LATAM trading

---
(And in SPANISH)
SCN Cyber Meeting (1pm MEX time – Time zone 3 – Americas – EN ESPAÑOL)
Reunión en español para comentar lo que aprendimos en Cartagena y lo que esperamos del futuro con los SCNers.

---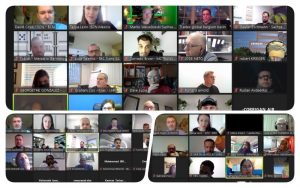 What is an SCN Cybermeeting?
SCN Cybermeetings are zoom meetings of approx 45-60 mins
We hold three meetings on the same topic to allow you to join at a convenient time according to your time zone
SCN Cybermeetings are our member's opportunity to see and be seen – hear and be heard.
SCN Cybermeetings are FREE and we encourage all members and their contacts to join us.