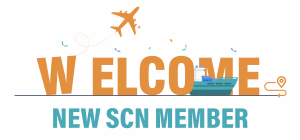 Our growing community just keeps on growing….with a new addition in Pakistan!
Send2World Logistics Pvt Ltd (Lahore, Pakistan)
.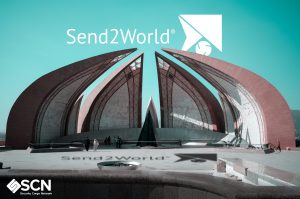 .
About Send2World Logistics Pvt Ltd
---
Send2World Logistics Pvt Ltd. is one of the fastest growing freight management companies and has a large presence in Pakistan. Being part of Rapid Group with expertise in CHB since 1991 in Pakistan and IATA since 1994,
S2W was established in 2014 under Rapid Groups umbrella by a highly experienced team with more than 25 years of logistics expertise and offers End-to-End Logistics solutions with a competitive edge in cost effective pricing and dedicated customer support teams at the major commercial and trading hubs of Pakistan. It has offices in Karachi, Lahore, and Sialkot, and is registered with reputable associations such as UKAS ISO 9001, FIATA, PIFFA (Pakistan International Freight Forwarding Association), SCCI (Sialkot Chamber of Commerce and Industry), NIC (National Incubation Center), and IGNITE (Ministry of IT, Government of Pakistan).
Our Major traffic from markets of Europe & USA. Our Services: • Air Freight • Ocean Freight • Road Transportation • International Land Transport to CIS countries • Warehousing and Distribution • Pick/Pack and E-commerce solutions + COD (Cash on Delivery) • International Animal Transport • Global Vehicle Logistics and Furniture Logistics • Global Baggage and House Removals • Express Logistics (Time Critical Cargo)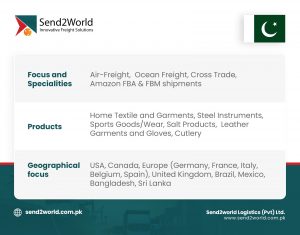 For more information on Send2World Logistics Pvt Ltd. .and how they can help you, as well as to say a quick hello and welcome to the network contact: