.
.
VIETNAM…A DRAGON-SIZED OPPORTUNITY
The geographic shape of Vietnam has historically been compared to a rising dragon. With recent shifts in global trade, Vietnam represents one of the fastest-growing 'Dragon" economies and export success stories in the world.
Driven by efforts to reduce dependence on China, global and regional companies have increasingly been shifting their manufacturing to Vietnam.  This combined with increasing aquaculture and agricultural production, has made Vietnam an increasingly important supplier to the world, across a variety of sectors.  For SCN members, this represents a golden opportunity, but like most opportunities, not always easy to access.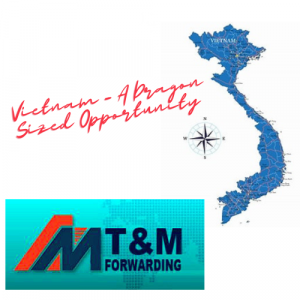 Moving products in and out of Vietnam is beset by challenges.  Aged, under-developed infrastructure, arcane and opaque regulations and bureaucracy can make the logistical challenges of moving shipments, dragon- sized.  This is where T&M Forwarding, a founding SCN member and dragon-slayer can help.
T&M Forwarding, one of the oldest and largest private Freight Forwarding operations in Vietnam, has successfully delivered logistic solutions for local and global customers for over 27 years.  
T&M's offices in Ho Chi Minh City (HCMC), Hanoi, Haiphong, Danang are well established, with a long, innovative track record in the market. This year T&M has invested in expanding its operations to Can Tho, Dalat and Nha Trang, three up and coming regions, in agriculture and aquaculture exports.  According to COO Susan Baron. "Having this kind of nation-wide reach is essential to delivering effective, integrated logistics. Problems arise locally that are not easily solved from a single office in HCMC or Hanoi".
So, whether you are looking to develop new business or expand your existing business in Vietnam, contact T&M to grow your logistics business in Vietnam.  The T&M Dragon-slayers are standing by, ready to serve your logistics needs, in and out of Vietnam, without getting burned!