Wallis Shipping has been shortlisted for the BIFA's 'Project Forwarding' award – a great achievement as they are up against some very large FTS100 competitors.  You can find the release below.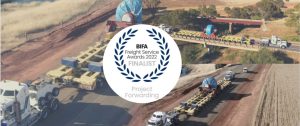 PRESS RELEASE
November 2022
WALLIS SHIPPING FINALIST FOR PROJECT FREIGHT AWARD
Wallis Shipping is excited to reveal that the company has been shortlisted for a coveted 2022 BIFA Freight Service Award!
Run by the British International Freight Association (BIFA) and now in its 34th year, Wallis' work on a complex shipping order has been shortlisted for the Project Forwarding Award. Wallis need to extend huge thanks to agent Austoriant Freight Services who partnered in this project with them.
The shortlist follows on from Wallis' Commercial Director, Jenna Morgan, scooping Young Freight Forwarder of the Year Award in 2020. A total of 26 UK freight forwarding companies have been shortlisted as finalists for the nine service categories of this year's awards.
A longstanding client of Wallis asked for a break bulk project solution to move huge wind turbines from UK to Australia. The project involved Wallis Shipping tying up all points globally for their large wind movements to Victoria in southern Australia, and due to end destination road constraints, the end delivery arrival had to be within the school holidays to avoid extensive road closures and disruptions to communities.
Stuart Gregory, Managing Director, said: "We are delighted to have been shortlisted for this prestigious award and big thanks to our friends and partners at Austoriant Freight in Melbourne who helped us navigate the destination issues in Victoria. Over the years we have exported a huge amount of plant machinery all over the world, with the help of our trusted global agents. The types of plant machinery varies greatly that we deal with, from shipping small vital components that have kept car production lines running in Mexico City, or ships spares to keep vessels moving in Singapore and up to much larger items such as trenchers, mining tractors and 30 metre long Archimedean screw pumps. It is great to be recognised for the often-complex work we do on behalf of our clients."
Now one of the UK leading specialists in the international movement of heavy machinery from the UK, Wallis has accumulated a wealth of expertise over their 35 years in the shipping industry that enables them to find solutions for all their machinery customers.
Jenna Morgan, Commercial Director at Wallis Shipping added: "We are really proud – as a small family business – to be up against big competitors, the likes of whom are publicly listed and on the FTSE 100. It just shows size isn't everything. For us, we find it's the bespoke solutions that we provide, that are what our clients want."
Robert Keen, BIFA's Director General, commented: "Since our last awards ceremony, BIFA members have continued to face and overcome many challenges across all modes of transport, to manage many of the UK's visible supply chains and keep trade moving. Many entries to the BIFA Freight Service Awards 2022 document the obstacles encountered by our members and the innovative measures taken to overcome them while continuing to manage their businesses during very challenging times."
The finalists in each category will now go forward to the final round of judging with winners due to be announced at the BIFA Annual Luncheon and Awards Ceremony on Thursday 19h January 2023 when footballing legend Kevin Keegan will host many BIFA members and their guests.
Warm wishes,
Rächend Smith.