With such fast digital development in logistics and with even faster changing client demand for services, it can be almost impossible to know exactly what investment to make and where to jump next! With that in mind, our data integration partner, PSA, got together with many of their data service providers in Las Vegas to see how we can integrate and network better to find valuable solutions.
BravoTran – Efficiency with AP/AR with AI reading of your invoices and associating them to jobs in your TMS.
MDPC – Offshore your data entry requirements for major cost savings.
Open Track – a proven tracking system that is integratable to reduce all those mail asking where cargo is
Pay Cargo – Get your cargo released quicker and without confusion from terminals, w/h and airports.
VEEM – Payment system to make and receive international payments (sounds interesting between SCNers, right?)
Freight Snap – Measuring and controlling your inbound warehouse entries prior to loading
Rippley.ai – Attend the simpler requests of clients via mail and bot, saving time, so you can attend the more complex matters personally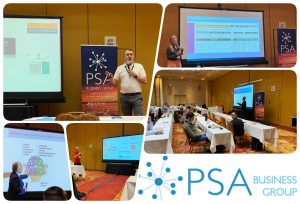 All digital providers were able to give detailed explanation of their services, some with the assistance of existing clients (who were able to give fist hand experience of their implementation).
I was  further able to explain developments in the SCN network to members:
SCN Data Hub, created with the assistance of PSA, to integrate members' operations and more, for greater efficiency and accuracy
SCN Trade Exchange  creating new commercial possibilites for SCNers and their clients.
One major reflection is that we need to break away from "Outlook addiction". Is it possible to consider yourself an expert in logistics when you are spending 60% (or more) on Outlook attending to requests of information? Should this not be handled differently, so that you can apply your expertise and experience to resolving issues and not simply updating? How much of your time do emails represent and what does that COST?!
We look forward to continuing to collaborate with PSA and their partners, some of which are already collaborating with SCN members. Greater efficiency means more time to talk, understand and maybe do a little networking!