Wednesday 19th October, 2022
What a year for logistics 2021 has been!
Bottlenecks, shortages, sky-high rates, space battles, …whatever your experience has been, it is clear that we need to keep an eye open for the many opportunitites that have opened up.
SCN is no different. Many forwarders have joined our community and others have enrolled more offices.
Connect up to our Cybermeetings and find out what the SCN community can do for you…and how you can offer service to the SCNCommunity too
What's an SCN Cybermeeting??
A free group Zoom meeting that will take up 45-60 mins of your time with other SCN members.
Chose the time that best fits your day and connect up with us and SCN colleagues. Register and you're in.
All welcome……especially those who participate actively!
New Year – New Members – New Opportunities 
(And finally in SPANISH)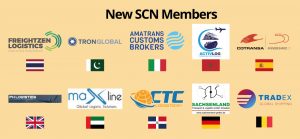 Be part of the conversation, with SCN and partners
Contact us: hello@securitycargonetwork.com