SCN CYBERMEETING  –  Wednesday 6th Sept. 2023

So, are you all ready for our next face to face CONFERENCE in Vietnam? Or maybe you are still a little unsure about if you should go or not…To clear up those doubts and questions, why not connect up for our next Cybermeeting:
When do I need to arrive in HCM?
I can't get a hotel booking. Can SCN help?
When does the scheduler open?….how does it work?
Pre-conference activities, what do they include?
What is the dress code for events?
What other sessions are there (apart from One-to-One meetings)?
"Chat & Chill" weekend?….what's that?
I hear there is a survey for best agent…
….or anything else you want to ask.
At SCN, we dont just want to get you all together – we want you to have a HIGHLY PRODUCTIVE conference and know how to make the best use of your time and contacts
Join us and participate in the debate to grow your GLOBAL movements, agents and understanding.

*********
Connect up on Wednesday 6th September, at a convenient time for you to share your experiences and impressions!
Be part of the conversation at SCN
---
SCN Cyber Meeting (4pm SGN time – Time zone 1 – Meeting (in English)
Focused on Australian, Asian and Middle East SCNers

---
SCN Cyber Meeting (5pm BCN time – Time zone 2 – Meeting (in English)
Focused on European, African, Middle East and US members

---
(And in SPANISH)
SCN Cyber Meeting (1pm MEX time – Time zone 3 – Americas – EN ESPAÑOL)

---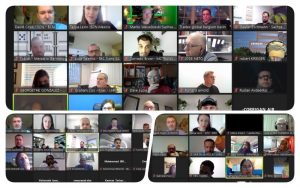 What is an SCN Cybermeeting?
SCN Cybermeetings are zoom meetings of approx 45-60 mins
We hold three meetings on the same topic to allow you to join at a convenient time according to your time zone
SCN Cybermeetings are our member's opportunity to see and be seen – hear and be heard.
SCN Cybermeetings are FREE and we encourage all members and their contacts to join us.