SCN CYBERMEETING  –  Tuesday 15th November 2022

We're just back from Bangkok and the "Annual SCN Conference" – although the term annual makes us think of the last two years! With our heads spinning of new ideas, promises, possible collaborations, resolved doubts…..the REAL issue now is:
How do we convert INTEREST into ACTION……..PROMISES into REALITY.……INTENTIONS into ROUTINGS
So, are you all ready to share your expericnces, interests and outcomes of the conference?  Why not connect up for our next Cybermeeting and find out how to move forward.
What did you especially like about the conference (and what would you like changing)

20minute One-2-One meetings
Presentations from new members
Interactive Break-out groups with new projects (SCN Trade Exchange, SCN Data Hub…)
Enviromental activities for your company

Missed the conference? No problem. Connect up and see what the others thought and decided on
and of course…..Where are we going next year?   (Spolier Alert…it is not yet decided!)
*********
Connect up on Tuesday 15th November, at a convenient time for you to share your experiences and impressions!
Be part of the conversation at SCN
---
SCN Cyber Meeting (4pm BKK time – Time zone 1 – Asia/Aus)
Meeting (in English) to share post Conference interests and actions

---
SCN Cyber Meeting (5pm BCN time – Time zone 2 – Europe/Africa
Meeting (in English) to share post Conference interests and actions

---
(And finally in SPANISH)
SCN Cyber Meeting (3pm MIA time – Time zone 3 – Americas – EN ESPAÑOL)
Reunión en español donde compartiremos las experiencias, intereses y acciones derivadas de la Conferencia.

---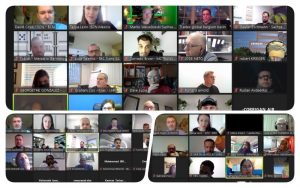 What is an SCN Cybermeeting?
SCN Cybermeetings are zoom meetings of approx 45-60 mins
We hold three meetings on the same topic to allow you to join at a convenient time according to your time zone
SCN Cybermeetings are our member's opportunity to see and be seen – hear and be heard.
SCN Cybermeetings are FREE and we encourage all members and their contacts to join us.